Connecting Jablotron with OpenHAB
In this article we will show you how to install Jablotron binding in OpenHAB. This binding helps us to synchronize states from Jablotron alarm to OpenHAB. Typically, you can force to switch off lights, close water pipe and circulation, switch off sockets or whatever you want to do when you leave home and set alarm.
Hardware
Jablotron Alarm JA-80/JA-100/JA-100F

Pi-Home - see the How to in Smart Home section
Software
OpenHAB
Tutorial is very easy. Original shorter tutorial you can find on OpenHAB Community:
https://community.openhab.org/t/jablotron-alarm-binding-for-openhab/41930
Download latest binding for Jablotron (March 2021 is 2.5.11)
https://www.dropbox.com/s/2aw2c4xbfv0plni/org.openhab.binding.jablotron-2.5.11-SNAPSHOT.jar?dl=1
Copy the .jar file to the shared folder on your OpenHAB under openhab-conf/openhab-addons/
Open Paper UI and manually add new Thing, choose Jablotron Binding and then Jablotron bridge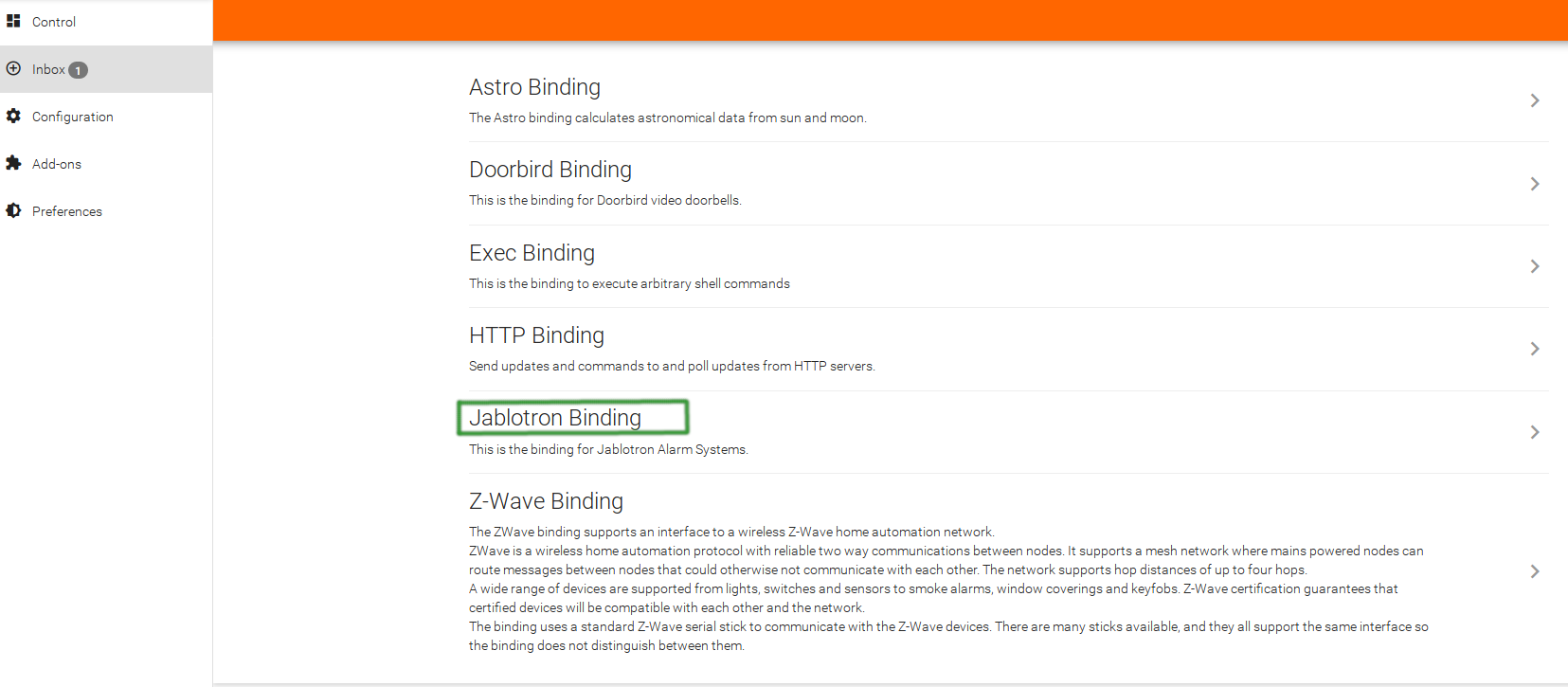 Fill login information to your Jablotron Cloud. After save, you should see the new things under Inboxu section. If you have more locations, you will see more things. Add thing you want.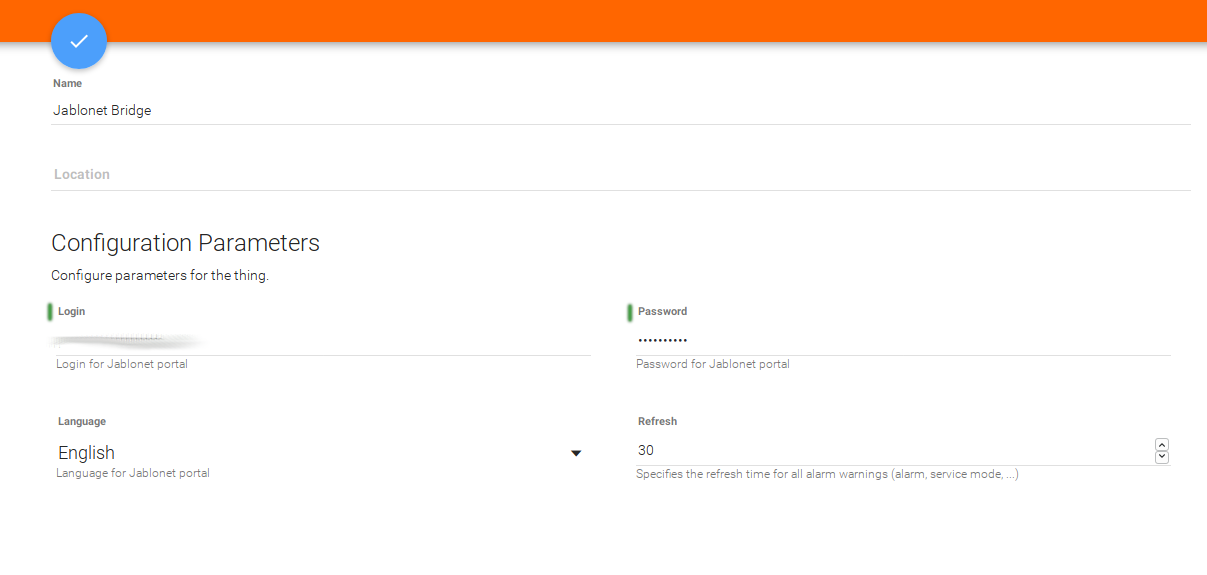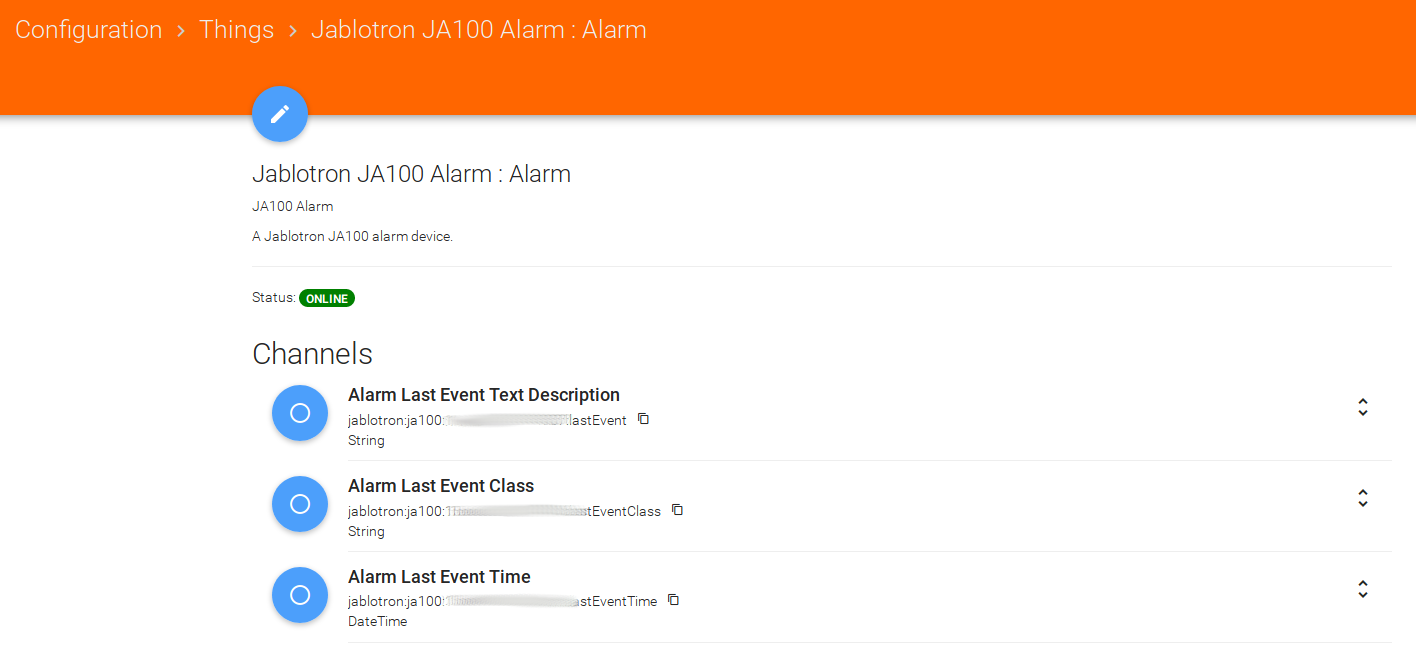 You can pair the thing events as alarm state, last alarm date, etc. with your items in OpenHAB (see below). Then you can create rules which can react to the states of your items and provide defined actions.
Below, you can find very simple example of jablotron.items and jablotron.rules (under items and rules folders respectively). When alarm is set, rule set "AwayHome" state to "ON" which has many other actions in OpenHAB for various items.  
jablotron.items
String AlarmDum "Alarm dum"
String AlarmZahrada "Alarm zahrada" 
jablotron.rules
rule "Alarm Jablotron"
when
 Item AlarmDum changed
then
 if(AlarmDum.state == "set"){    
 sendCommand(AwayHome, ON)
 }
 if(AlarmDum.state == "unset"){    
 sendCommand(AwayHome, OFF)
 }
 if(AlarmDum.state == "partialSet"){    
 sendCommand(AwayHome, OFF)
 }  
end